While I adore dogs, unfortunately  they don't fit into my lifestyle at the moment therefore I'm not able to live with any and do not have experience feeding dogs a raw diet. Kimberly Gauthier from Keep the Tail Wagging has plenty of experience and is here to share: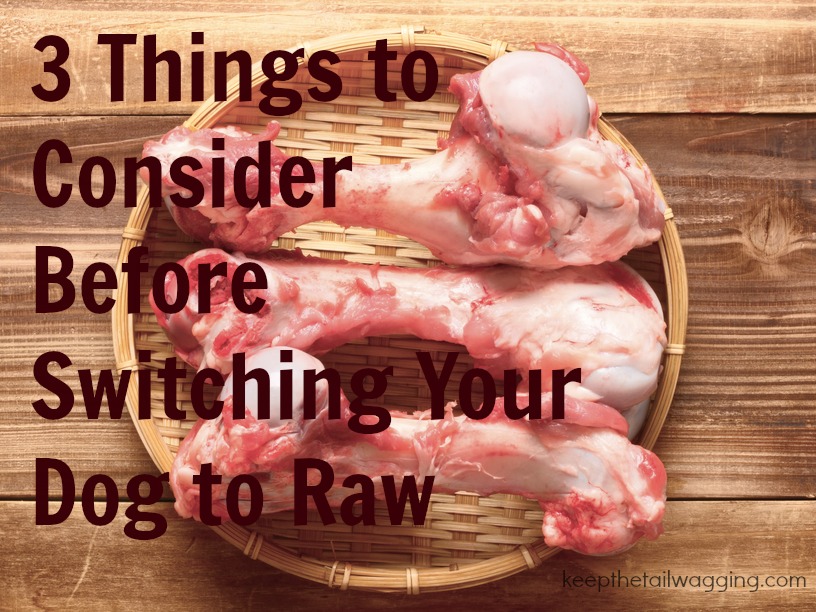 I switched our dogs to raw, because one of our dogs struggled with digestive issues and allergies and from everything I heard about the raw food diet, I thought that raw may be the answer. I started our dogs off with premade raw with Darwin's Pet, a local premade brand that ships raw meals for dogs and cats across the US.
Starting with premade raw gave me the time to do some much needed homework and I learned 3 things about raw feeding that have helped make the diet easier for our us to manage while making it most beneficial for our dogs.
BARF v Prey Model of raw feeding…
BARF (biologically appropriate raw food) model: includes vegetables, fruits, eggs, and supplements (digestive enzymes, joint supplements, salmon oil). The BARF model doesn't include grains or starchy foods (sweet potatoes, rice, etc), because these aren't considered biologically appropriate for dogs and they are difficult for dogs to digest.
Prey model: more resembles what wolves eat in the wild and there is an ongoing debate on whether wolves would naturally consume veggies and fruits. Since wolves do eat animals with a diet made primarily of veggies and fruits, wolves eat these ingredients second hand. However, some believe that wolves shake out the stomach contents of these animals, removing the vegetables and fruits.
We feed our dogs based on a modified version of the BARF (biologically appropriate raw food) model of raw feeding. I mix raw meat or raw meat and bone with The Honest Kitchen grain free base mixes. I personally think that if a dog is fed a balanced and complete Prey model diet, they don't need anything else, however, it's difficult for me to get all of the ingredients to make our dogs' diet balanced and complete, therefore, I follow the BARF model using The Honest Kitchen.
Choosing between feeding ground or whole raw…
We chose to feed our dogs a ground diet, because of our positive experience with Darwin's Pet (the premade brand our dogs at in the beginning).
Feeding ground is easier…
We can mix up the ingredients including supplements on the weekend and quickly feed our dogs their meals daily. We can also better control how much each dog is eating, which is helpful, because 2 of our dogs are on a diet.
Feeding ground is cleaner…
We're able to feed our dogs from their raised dog dishes and since the dishes are off the floor, there is no worry about a raw mess.
Feeding ground makes teeth cleaning harder…
The benefit to feeding whole raw is teeth cleaning; as the dogs chomp down on bones, their teeth are naturally cleaned and flossed during time. In order to help our dogs keep their teeth clean, I've found that mixing in chopped up duck necks (4-5 pieces) allow them to get the chomping/teeth cleaning action.
Raw feeding is expensive, but it doesn't have to be…
Even before I switched our dogs to raw, I was questioning if we could afford the diet for our dogs. Today, I laugh that I thought it was so expensive.
What the average dog owner doesn't know is that there are raw food co-ops around the country that offer members discounts on food, supplements and other pet supplies. I save more than 50% off our monthly budget now that I've switched to buying through a co-op.
We invested our initial savings on 4 items…
20 cf upright freezer
1 cf chest freezer (for overload)
STX 3000 meat grinder (that can handle poultry bones)
Kitchen Aid professional mixer
All of these items can be picked up secondhand (do your homework first) or through an appliance recycling outlet (where you can save up to 75% on refurbished appliances).
My advice to aspiring raw feeders…
Before you switch, do your homework, find a support system, and try to find a pro-raw veterinarian. Keep in mind that the people you meet online have years of experience (sometimes decades) in raw feeding, but they don't have experience with your dog or lifestyle. And they most likely aren't licensed nutritionists or veterinarians, therefore, you shouldn't follow their advice without doing your own homework – what works for one dog and dog owner may not work for another.
Often, I'm told that I'm not a real raw feeder, because I mix our dogs raw meat with The Honest Kitchen grain-free base mixes. I've learned to ignore those critiques. What's important is a dog owner's desire to feed their dogs a healthier diet. We are all doing our best; feedback from others can be helpful, but it doesn't define us as dog owners so don't allow anyone to push you into feeding raw before you're ready.
Author: Kimberly Gauthier is the dog mom to 2 sets of littermates, Rodrigo, Sydney, Scout and Zoey, and has been feeding a raw diet since 2013. Please visit Kimberly Gauthier at Keep the Tail Wagging to learn more about raw feeding, dog supplements and raising littermates.