Next to food, litter box setup is the second most important consideration for your cat. Finding the balance between what your cat wants and you want is tricky. Some cats are more tolerate than others.
Covered Litter Boxes
Possible Cons:
traps the odor inside, uncomfortable for the cat
too small of box
cats can feel cramped
cats can feel trapped with no second exit in case of another cat
Out of sight out of mind affect: if we do not see the litter box we may clean it less often because we don't see it
Possible Pros:
keeps the litter in the box
higher back walls keeps urine in the box
ascetically more appealing
helpful in small apartments
can make unsightly boxes look like decor
Can prevent dogs access to the litter box
I understand the desire to have a covered litter box and it can be done in a comfortable way for both you and your cat.
Tip: When introducing a covered litter box first offer it with the top off or in the open position. After a few days add or close the top.
First a bad example: this box is too small, too enclosed and the door is cumbersome. It may keep the odor inside but that will only make it unpleasant for your cat. If you have a box like this taking the door off will help with air circulation.
While it's not pretty, it's a much better option than the first.  Much larger (25″L x 19″W x 16.5″H), has a large front entrance, no door and the top is see through.
My favorite covered litter box on the market is the Poopoopeedo Litter Box. For $90 it's high quality, good size and there is no need to hide this beautiful box (egg). (my review of the poopoopeedo)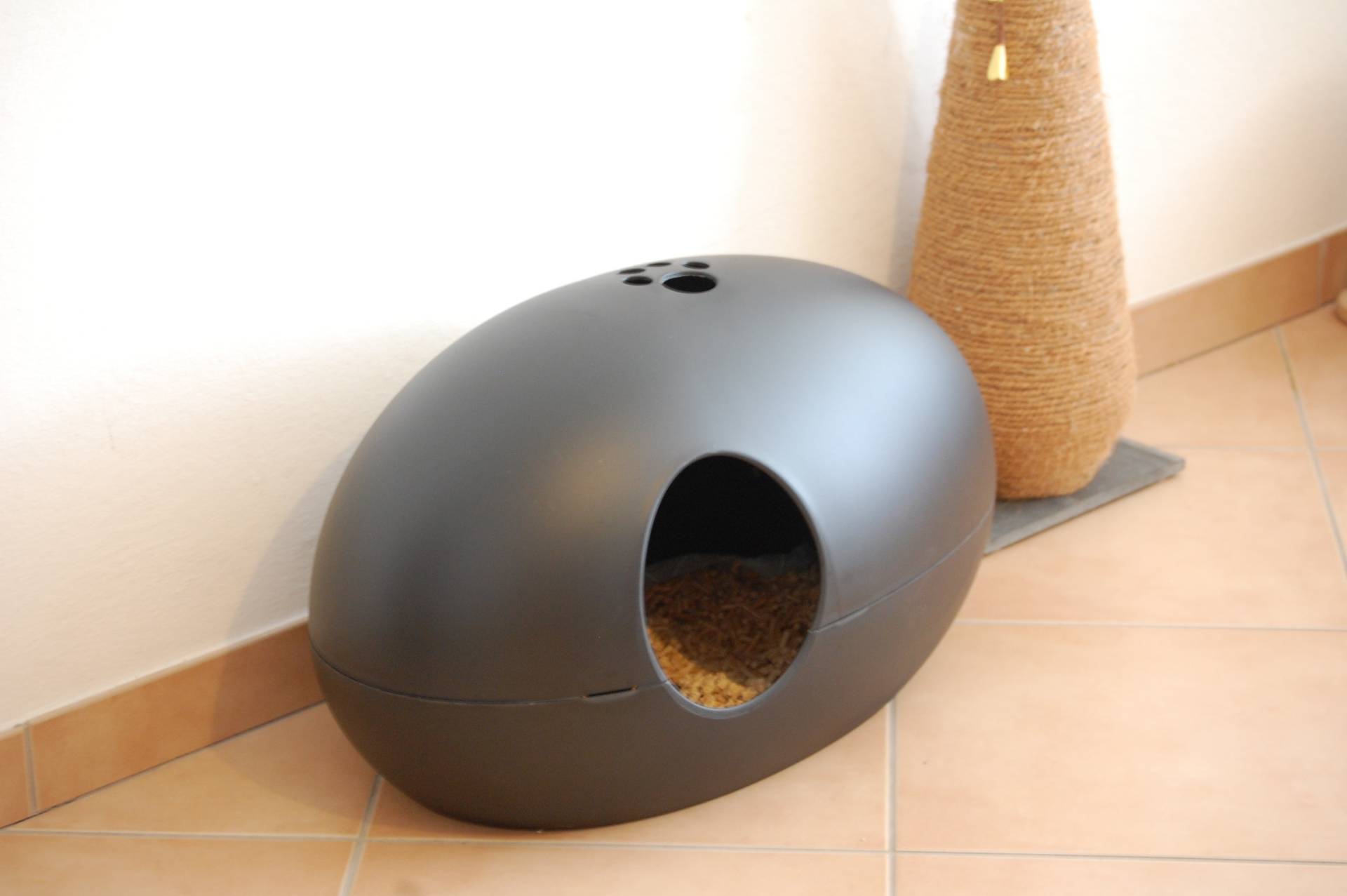 Before purchasing the Poopoopeedo I considered the Modkat top entry litter box. $150. It had a lot of great points, however what made me choose the Poopoopeedo over the Modkat was the size. The Modkat is only 16 x 16 x 15 inches. I think the Modkat would be best for a smaller cat and a one cat home.
The bigger the better, especially when it comes to covered litter boxes. Putting a litter box in a piece of furniture, dresser, chest, etc. is an easy way of allowing for a large box. Because the furniture is larger than the box it allows the cat more room to move around so their body and fur isn't rubbing against the walls of the box. It also allows you to keep accessories like a scooper, cleaning supplies, etc. inside the box.
This is my primary litter box. It is DIY sifting litter box designed for wood pellet litter. This Ikea chest is great because the holes in the sides allow for air and light to pass through. It is also see through so the cat can see whats going on outside. It's possible to remove the back wall so it would only have the two sides and the top. This would allow for an escape exit in multi-cat homes.
There are many ways to DIY your own litter box furniture using something you already have or  second hand furniture.
Below are some already made litter box furniture options:
Modern Cat Designs Litter Box Hider $215
Merry Products Cat Washroom Bench $193

Bottom line is the bigger the better. If your cat accepts a covered litter box you should kiss them and consider yourself lucky.  If at any point they decide they do not want to use a covered litter box it is our job to give them what they need, if not we will pay the consequences.
So tell me, do your cats have preferences to a covered or uncovered litter box?