Your cat's food is the most important way you care for your cat's health. I feed 80-90% a home-made raw diet. I always have on hand a commercial wet food that I can feed in between batches or for convenience.
Many ask is if it's okay to switch back and forth between raw and wet food?
The answer is yes, if 1. your cat has a strong GI system that is used to eating a variety of foods and protein and 2. if the commercial canned food is of high quality. Check out my post about mixing raw with commercial foods. Today I am sharing a new cat food company I have discovered.
Josera – Kyli is my favorite brand at the moment. The ingredients are easy to read and understand and they only use meat fit for human consumption. It is also a complete food, not complementary. Because I feed home-made raw when I buy commercial food I only by complete food, it gives me the added reassurance that my cats are getting everything they need. I find many high quality foods are complementary rather than complete.
Kyli is a separate Swiss line under the parent company Josera, a German company.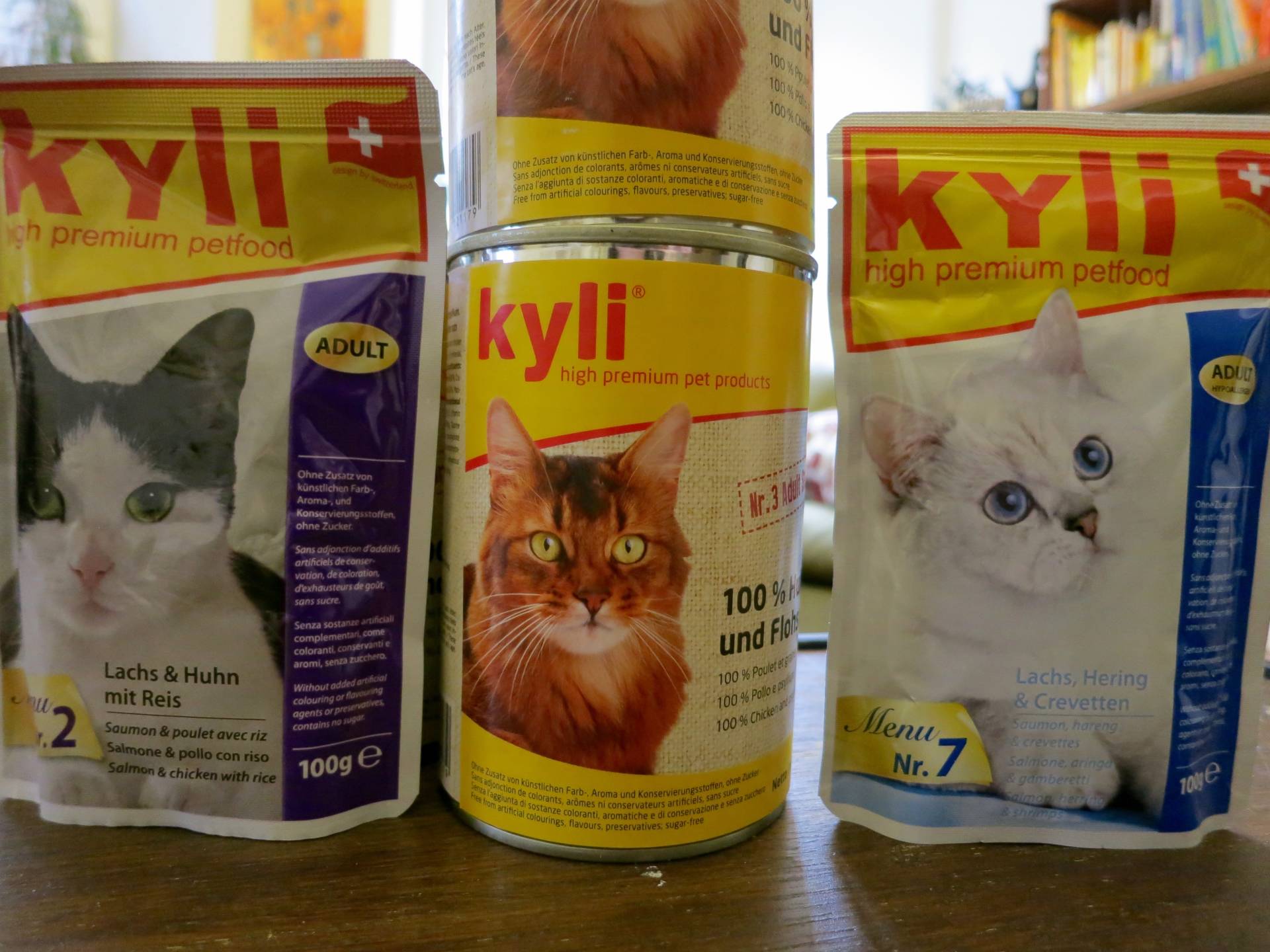 JOSERA is a mid-sized family company founded in Germany. For over 70 years , Josera has specialized in first-rate animal food. Environmental sustainability and sustainability in their relationships with associates and customers are a hallmark of the JOSERA Company. JOSERA makes high quality dry food for cats and dogs.
Kyli wet food does not include:

soy
artificial color
artificial flavor
preservatives
sugar
wheat
genetically modified raw materials
Best Raw Materials –  quality guarantee
all meat sources are fit for human consumption
wild salmon from European environmentally controlled aquacultures
Kyli is available in 100 gram pouches and 400 gram cans which have the label Breeders, but it is the same formula just different packaging.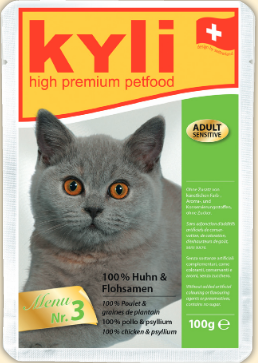 Seven different Menus available:
Menu #1 Kitten Chicken with rice & salmon oil
Menu # 2 Adult Salmon & Chicken with rice
Menu # 3 Adult Sensitive Chicken & Psyllium
Menu #4 Adult Duck & Chicken with potatoes
Menu # 5 Adult Light Chicken with carrots
Menu # 6 Adult Senior Beef & Chicken with rice
Menu # 7 Adult Hypo-allergen Salmon, Herring & Shrimps
How do my cats react:
I can feed complete raw for weeks non-stop then switch to this food for a couple of days and my cats have no vomiting or change in stool. I feel confident feeding it to my cats and am so happy I found such a high quality product for such a great value. I have been feeding this on and off for the last two months with no problems and my cats love it.
At the moment Kyli wet food is only available in Switzerland, but will hopefully branch out to other European countries. Josera can be found throughout most of Europe.
It is nice to find companies committed to producing quality pet food which is why I wanted to share.
In Switzerland Kyli can be purchased at QualiPet stores. Josera dry food is also available places like ZooPlus,
http://www.josera.ch/fr/fileadmin/prospekt/Prospekt_Katze_JOSERA_KYLI.pdf
This is not a sponsored post. All opinions are my own.