Hip cats, great design and soft T-shirts. That's what Adventure Kitty is creating and I am thrilled  to give  you the chance to win a Tee for yourself!
These T-shirts are clearly more proud hip cat-lover than crazy cat lady. And all this from a company who really cares about and gives back to cats. I just love the graphics and am exited to see what else they come up with.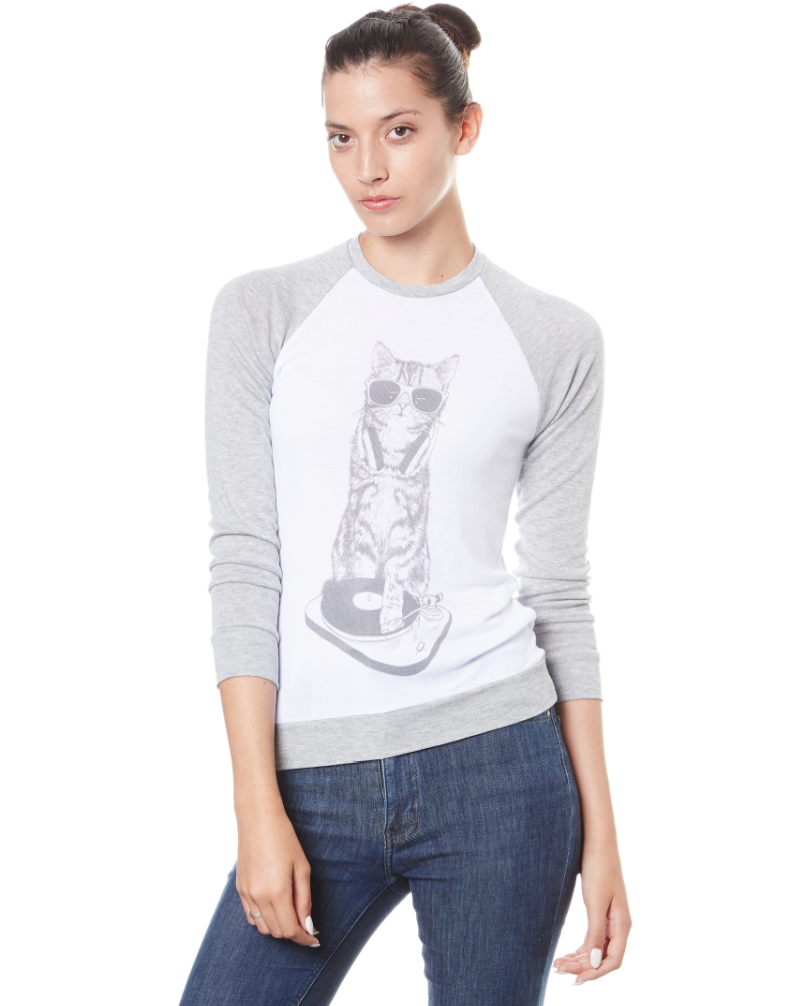 I asked Rachel, the founder of Adventure Kitty a few questions about her new company.
What's the inspiration behind Adventure Kitty?
It's totally old school. When I was a kid my Mom used to tell my siblings and I Adventure Kitty stories to get us to behave, take a nap, go to bed, do our chores, stop fighting etc.  And it never failed, no matter what was going down, violence included, we would immediately stop what we were doing and pay attention.  It was like she was the Pied Piper or something except her super power was hypnotism via stories that got naughty children to behave…and her super power was for good…obviously.  In the stories she told there was a small group of kitties that were always recurring and were our own individual kitty characters, but new characters would always come into play with these hilarious and unique little quirks and tools they would use to show the kitties something new or help them get out of whatever mayhem their curiosity caused.
As an adult I was exploring different creative outlets, and had recently started fostering a pack of these four little wild kittens at the same time who just brought some much joy into my life, and watching them wrestle around with each other one night I thought – there's got to be something I can do that incorporates cats and fun.  I went to bed thinking about it, woke up the next morning and the idea to bring Adventure Kitty to life for adults was the first thought in my consciousness before I even opened my eyes.  After that it was on.
Who designs the t-shirts?
I have an amazing group of designers I work with (who also love cats), but I draft every design brief myself and direct every step of the final product.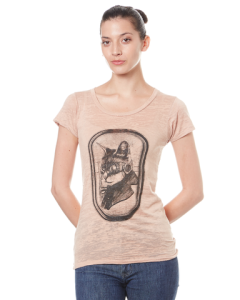 How do you 'give back' to cats?
First and foremost with money and time. A portion of every Adventure Kitty sale is donated to a network of cat shelters that I work with – we're always on the look out for new organizations to partner with so if any of your readers have suggestions we're happy to check them out.  On the personal front, in the last two years alone I have fostered and found forever homes for 13 cats – 9 kittens and 4 adult cats.  This includes everything from paying for supplies and vet bills, to interviewing families to ensure they are the right fit for the cat, and ultimately overseeing the transition into their permanent homes.  I regularly volunteer at the local cat shelter to help with whatever they need, which often times is to spend time socializing with the cats that haven't found foster homes outside of the shelter etc.   Animal welfare is something I am passionate about so when I started Adventure Kitty it was really important to me that social responsibility was part of what the company was about.
What's next for the line? 
In October we will be releasing a couple new designs such as 'Kitten in a Pocket' and a range of lifestyle items including a tote, journal, and a few other fun items that are useful for day to day living…and adventure.
How can you win the Adventure Kitty Tee giveaway?
To qualify you must like Adventure Kitty on Facebook or follow them on Instagram.  You can earn additional entries as listed below. Because we love international readers this giveaway is open worldwide! Please share with all of your hip cat-loving friends.
a Rafflecopter giveaway
You can shop Adventure Kitties online and save 15% with code KITTY15. (Plus they ship international!)