I have been interested in trying out an automatic feeder for the nights when I work late or  can't get home early enough to feed the cats.
One of the drawbacks of feeding raw is that you can not leave out food like you can with dry food. Although even if you are feeding dry, feeding at meal times is still better than free feeding.
What attracted me to this feeder was the simple design. It includes an ice pack to keep the food cold. There's a 48 hour timer and two compartments.
My two cats can eat next to each other in peace but can not share a dish as Cornelius is much more dominant and would not let Elizabeth eat. Therefore this feeder works well for one time use because I can put one serving for each cat in each compartment. For a one cat household this could be used for two servings.
The dishes are plastic which I'm not a fan of, but for occasional use it's fine. They are easy to remove and clean.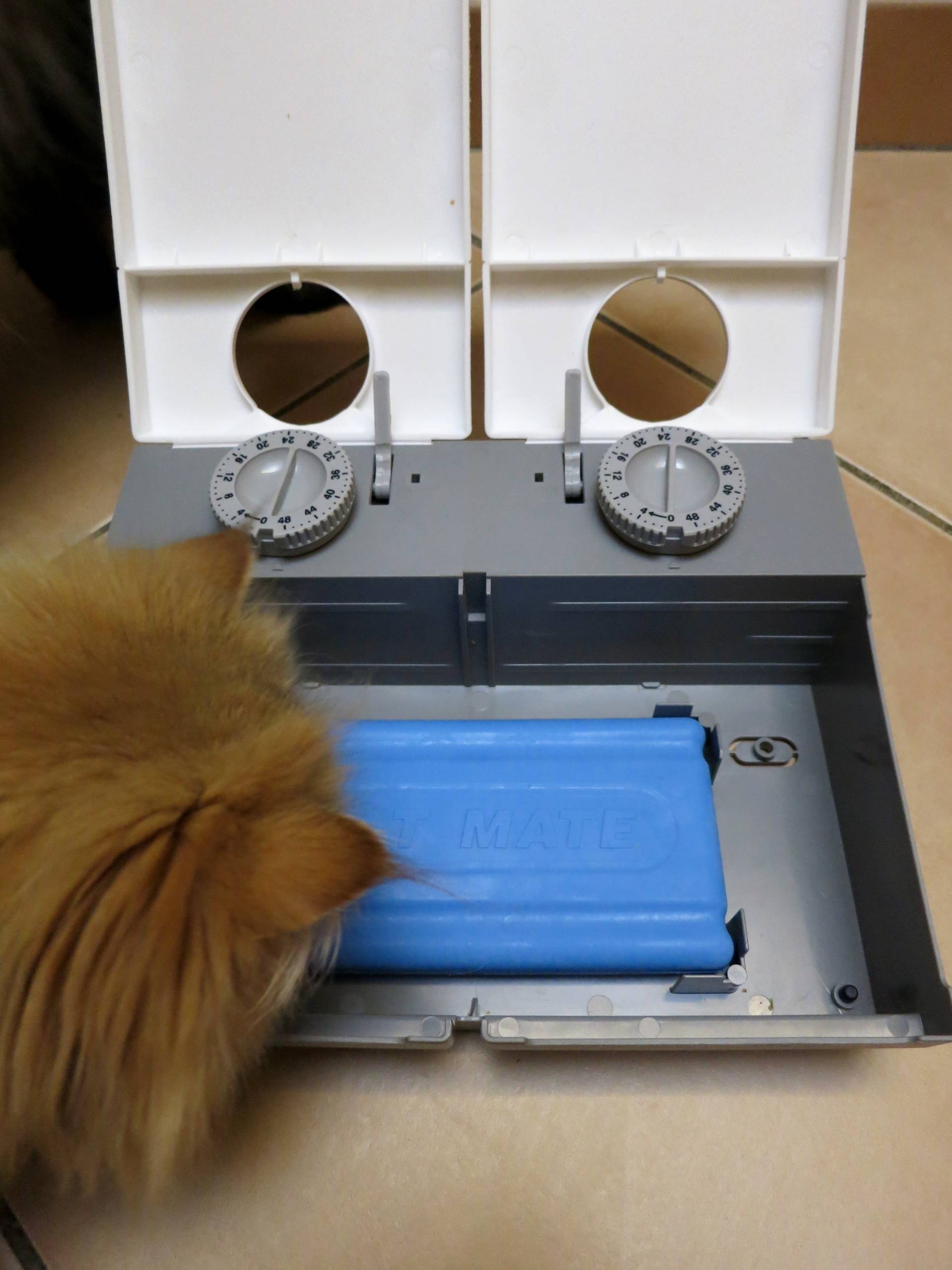 I froze the ice pack that came with it and put in some wet canned food. I still would rather use canned food  than raw just to be safe. The cats were immediately interested and began to scratch at the machine to try to get to the food. But they quickly gave up and were not successful at breaking in.
I did a couple trials while I was home to make sure it worked and the cats caught on.  They spent time waiting next to the machine as they could smell the food. When it opened they quickly went running towards it. Even if just one cat heard the machine open the other cat would follow.
Things to consider:
Make sure the batteries are new
Do a couple trial runs before you leave to make sure it functions well and your cats catch on
If you have one cat it will be easier and you can use this feeder for two different serving times. With more than one cat you have to think about your cats' eating behavior.
Overall
Because the timer is a dial and not digital, it's difficult to get both feeders to open at exactly the same time. Even if they open a couple minutes apart this makes a big difference with my two cats because the dominant cat can eat both servings. In a one-cat household this wouldn't be an issue.
The ice pack did seem to keep the canned food fresh and not dry. Another option would be to freeze the food and then put it in the feeder to de-thaw. But I still wouldn't use raw food just to be safe. Even thought I am a huge raw food feeder, I still use high quality commercial wet from time to time for convenience and variety.
I bought mine pre-owned and the previous owner said she had it for 5 years and used it at least once a month and it still works great. You can tell the age by the scratches. The same model is still available today for less than $50
Do you use an automatic feeder? I'd love to hear some recommendations, leave them in the comments :-)
Disclaimer: I purchased this used. All opinions are my own.