This

Catit Style Blow Molded Scratcher, Hourglass was my inspiration for a DIY vase scratching post. It is hollow and branches or flowers can be put inside.
I bought this ceramic vase at a thrift shop for $5. You could use any size or shape you like, but the heavier and sturdier the better, avoid glass.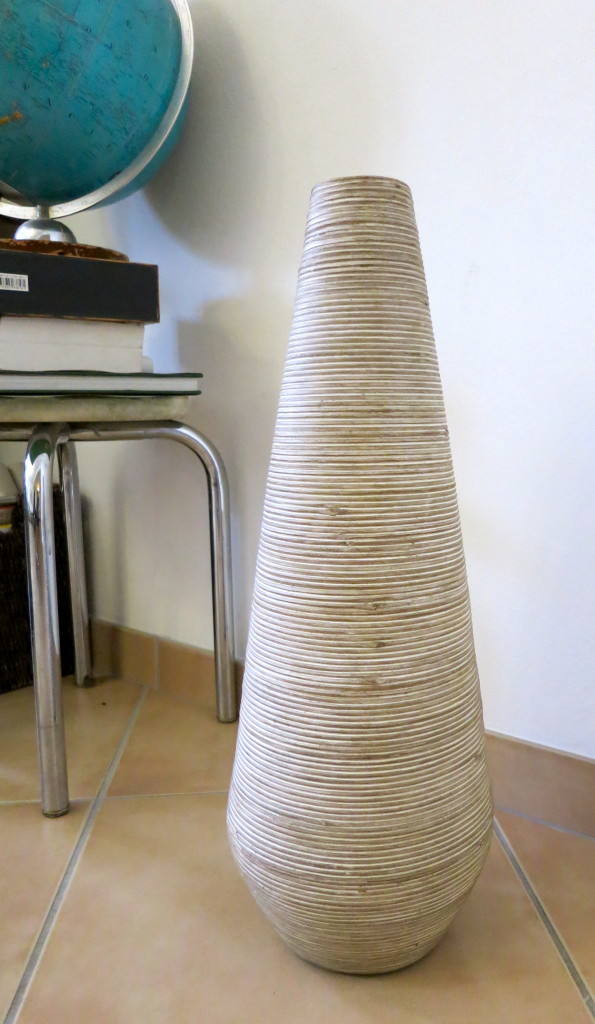 I used Sisal Rope
that you can buy from amazon, pet stores or from a home and garden store.
Beginning at the base I used a hot glue gun to wrap the rope around the vase as tightly and evenly as possible. It will not be perfect but that's okay. I used a kitchen knife to help push the rope into the glue without burning my fingers.
Because it's a scratching post the most important consideration is how sturdy the structure is. If it falls over while your cat scratches he will not want to use it again. I filled the bottom 1/3 of the vase with rocks and broken ceramic pot pieces to weight it down. If yours is really un-sturdy you may need to make a bottom structure that you glue or screw it into, similar to the CATit scratcher pictured above.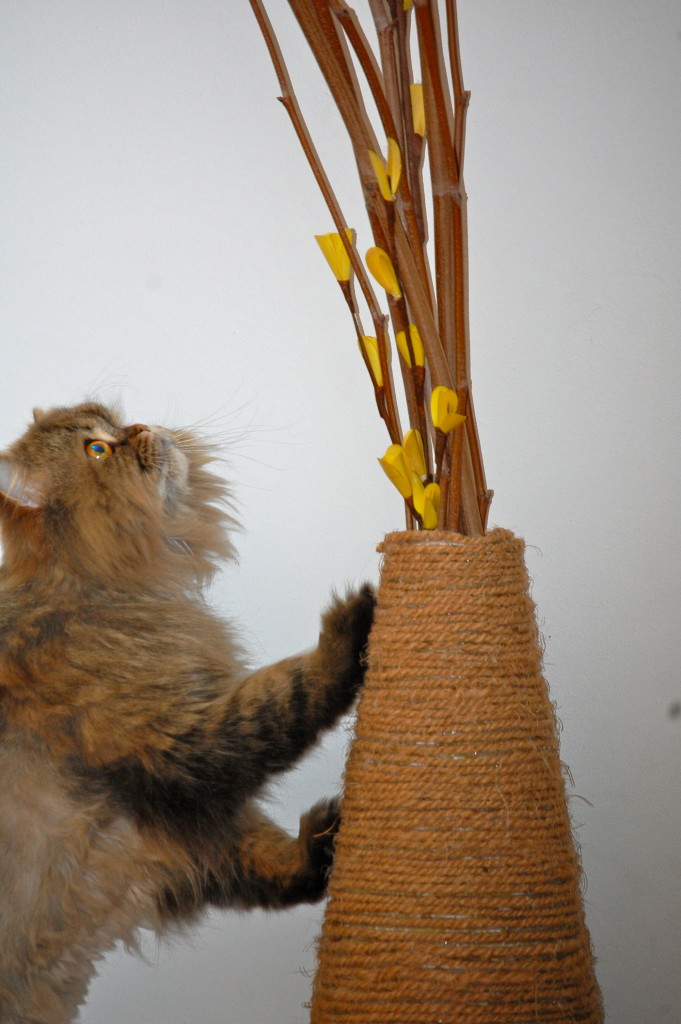 I put some tree branches and some IKEA fake flowers. Cornelius loves those yellow flowers and it encourages him to play.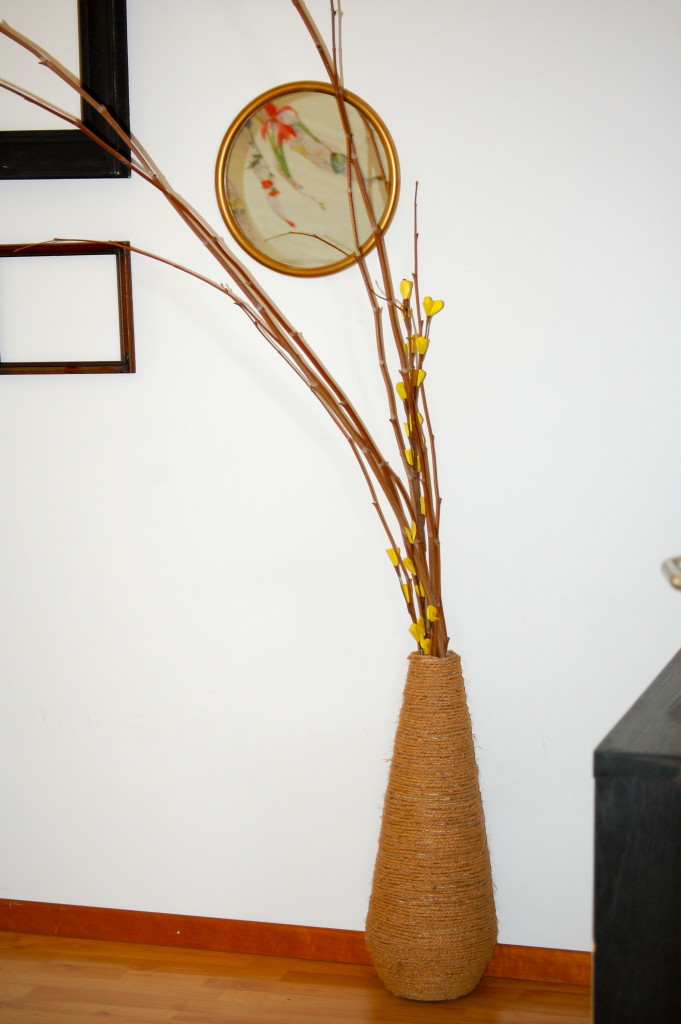 Cats need to scratch, it is a vital biological need. Providing them a variety of scratching posts is the best prevention for unwanted scratching of your furniture. Be creative, scratching posts do not need to be an eyesore in your home.
UPDATE:
Many readers were asking if this would fall over. At first it didn't. The weight and rocks inside the vase kept it up. However when we brought home a new kitten she started trying to climb up to the branches and knocked it over.
Immediately I found a solution because I didn't want the cats to be afraid to use it. I used a kitchen Slate board

that I had and didn't want anymore, but a ceramic tile would work perfect as well. I just hotglued the bottom to the slate. And it hasn't moved since.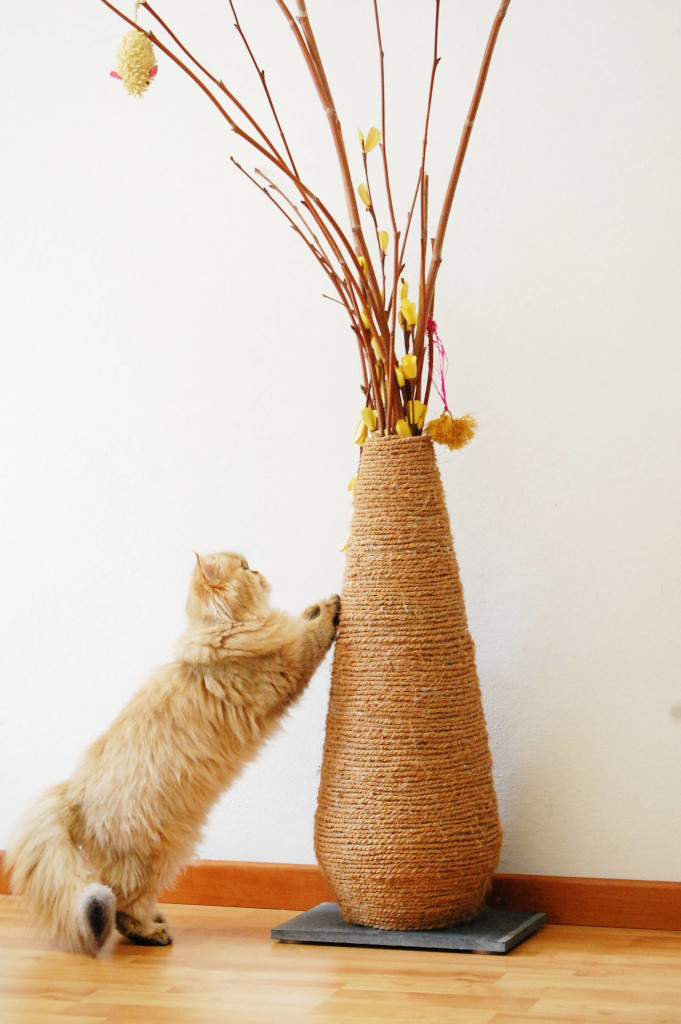 Have you recreated this project? I'd love to see! Please share your photo on Instagram #meowlifestyle
Originally published April 19th 2015. Updated September 19th 2015