My conclusion was that shaving can be helpful at times but safety and reducing stress are always a priority. In home groomers or mobile groomers are a great option. Going to a groomers where there are dogs around can be stressful. Some groomers have certain days just for cats which is a great idea.
Grooming at home can be done but only with the right tools and a lot of research. Using a clippers designed for humans is not a good idea, it will be difficult and could be dangerous.
After careful consideration I chose to buy the Oster A6 Slim Clipper, Purple
The 10 blade pictured below comes with the clippers.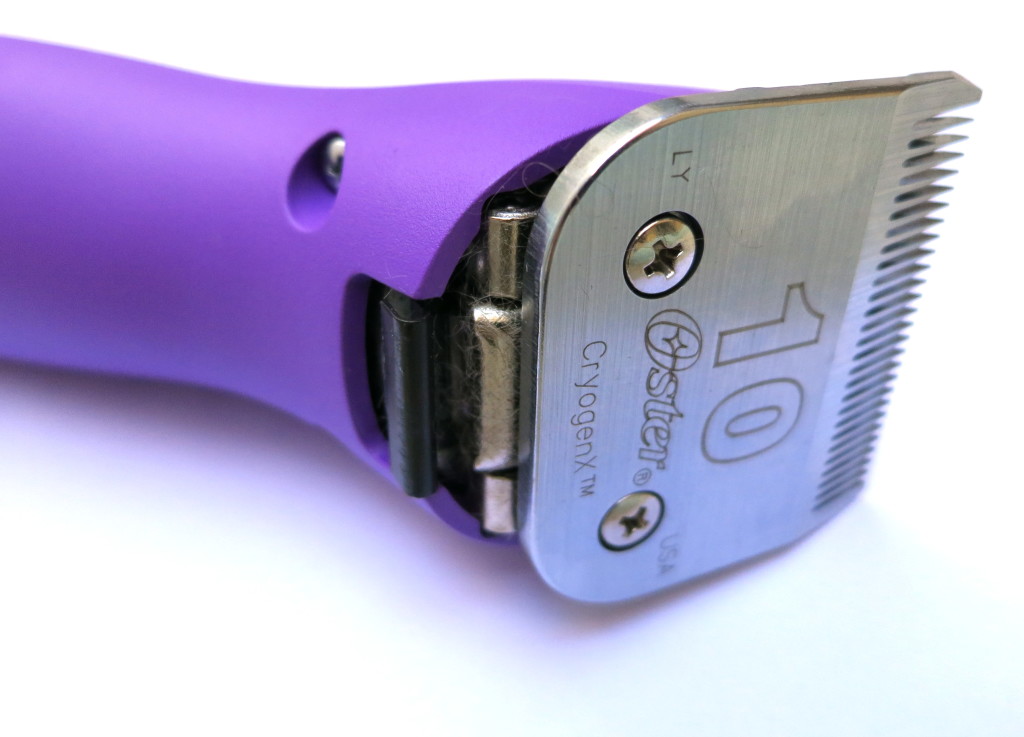 This is a heavy duty professional clippers with great reviews. It retails for $149.99 on Amazon.
Oster A6  Slim Specs:
 3 speed
compatible with all Oster A5 blades
compatible with generic blade guards
cooler running
12.7 ounces
dual voltage (useable worldwide)
quiet which is important for cats
I also purchased the Oster Lucky No.9 Cat Blade, Size 10
which is specifically designed for cats. Oster claims:
reduces track lines for smooth coat
works on all Oster heavy duty detachable blade clippers
cool blade to prevent burning your cat
specialized design blade for increased safety
Lucky No. 9 cat blades come in three sizes:
Size 30 Blade has a 1/50″ Blade Cut: Use for bellies, pads, body, and lion trims for a smooth finish.
Size 10 Blade has a 1/16″ Blade Cut: Use for whole body and lion trims for a velvety finish.
Size 7F Blade has a Finish Blade 1/8″ Blade Cut: Use for pads and matting.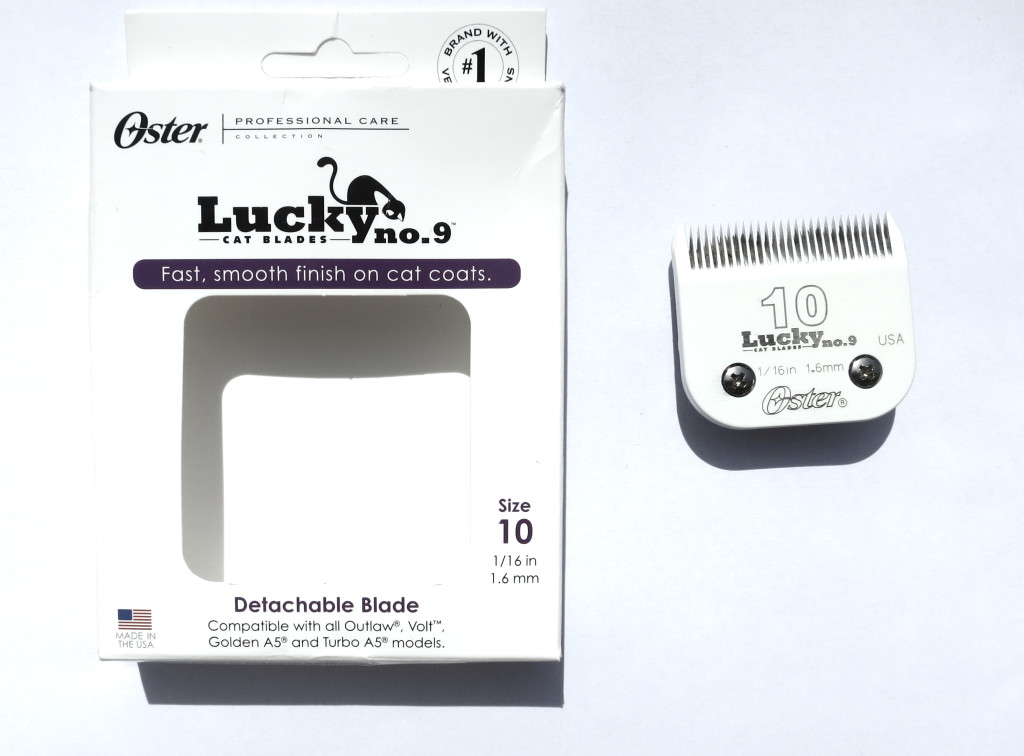 The Oster website has some great grooming tutorial videos which are very helpful if you are new to grooming.
Overall Opinion:
It is easy to see this a high quality heavy duty clippers. It cuts cat hair like butter and the lowest setting (the quietest) is all you need for cats. It is substantial in size so the slim size fits nicely in my hand. I chose the A6 over the A5 due to the slim size and the 3 speed option.  If you want to do grooming at home a high quality clippers is a must for the ease and safety. The money you will save from the groomers you can easily invest in a quality clippers.
The Lucky No 9 blade works great as well. My only regret is that I didn't get the 7F which would leave the hair a bit longer instead of the 10 blade. I will likely buy the 7F blade next.
What will I use this for? Mostly for sanitary clips and trimming the paw pads. I can do the sanitary trim in just a minute or two. Once I get the 7f blade I can also try a lion cut.
To see my favorite grooming brushes click here.
This is not sponsored. All items were purchased myself. Amazon affiliate links are used.