After feeding 100% raw for over one year I have learned a few things along the way. So here is an update: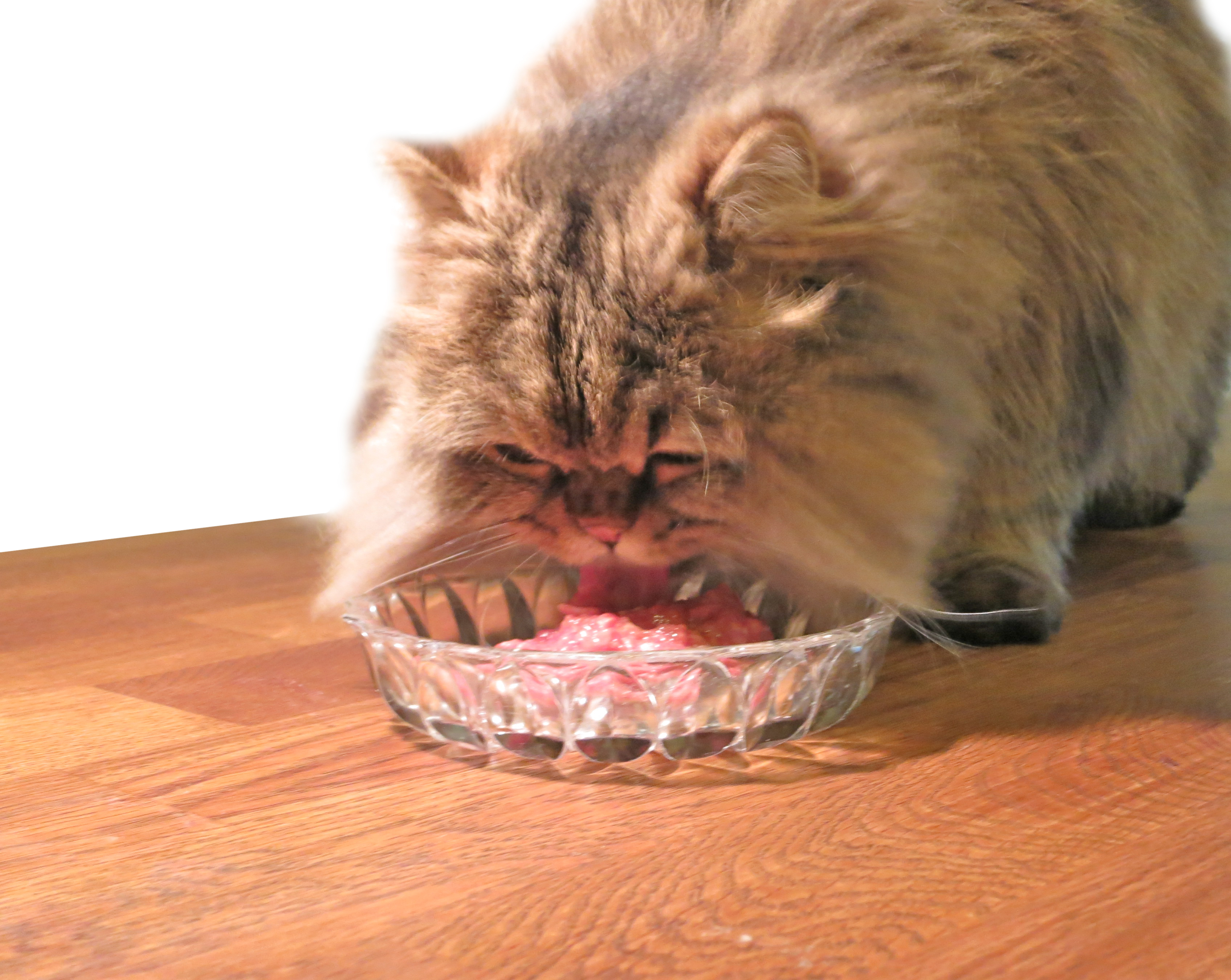 1. Skin. In the beginning I left all the skin on the chicken because my cat was a kitten. As he passed 1 year of age I thought I should start removing the skin. The general recipe I follow from Dr Pierson says to remove about 50% of the skin, more if your cat is over weight and less if your cat is underweight or a kitten. However, this is very tedious and not fun to do. I decided since my cat is not overweight at all I will continue to leave the skin.
2. Feeding Bowls. It is best to feed your cat with glass or stainless steel dishes. Plastic can catch and hold bacteria and should be avoided. I have 4 glass dishes I got from a thrift store and I can easily put them in the dishwasher after each use. Ceramic can be used but be careful because the paint glaze can chip and harbor bacteria as well.
3. Temperature. Before starting the raw process I read over and over that cats do not like cold food and the temperature needs to be just right. Maybe I'm just lucky but my cat doesn't seem to care about the temperature. Even if the food is still slightly frozen in the morning, he will still happily eat it.
4. Grinder Maintenance. After washing I disinfect it with a vinegar solution and then towel dry 100%. The most used parts: plate, blade and cap, I put a thin coat of vegetable oil on these surfaces to prevent rust.

5.  Grinder.  I wish I bought the bigger size 32 grinder instead of 22. My manual grinder still works great and I wouldn't change it for an electric.
But if I needed to buy a new one in the future it would be this one: #32 Meat Grinder with Pulley
6.  Feeding.  I feed three times a day. Once as soon as we wake up, again when I return from work and a bit more just before I go to bed. The meal before I go to bed is key to help my cat sleep in a bit more in the morning. Otherwise he would be waking me up at 4am every morning.
7. Defrosting. Before I go to bed I move a food container from the freezer to the fridge. By the morning it is defrosted enough to eat. If ever its not defrosted enough (meaning I took it out too late) I can run the closed container under hot water until defrosted enough. However as I said above, as long as it soft enough my cat will eat it regardless of temperature. I do wish I had a bigger freezer though, it would be so helpful!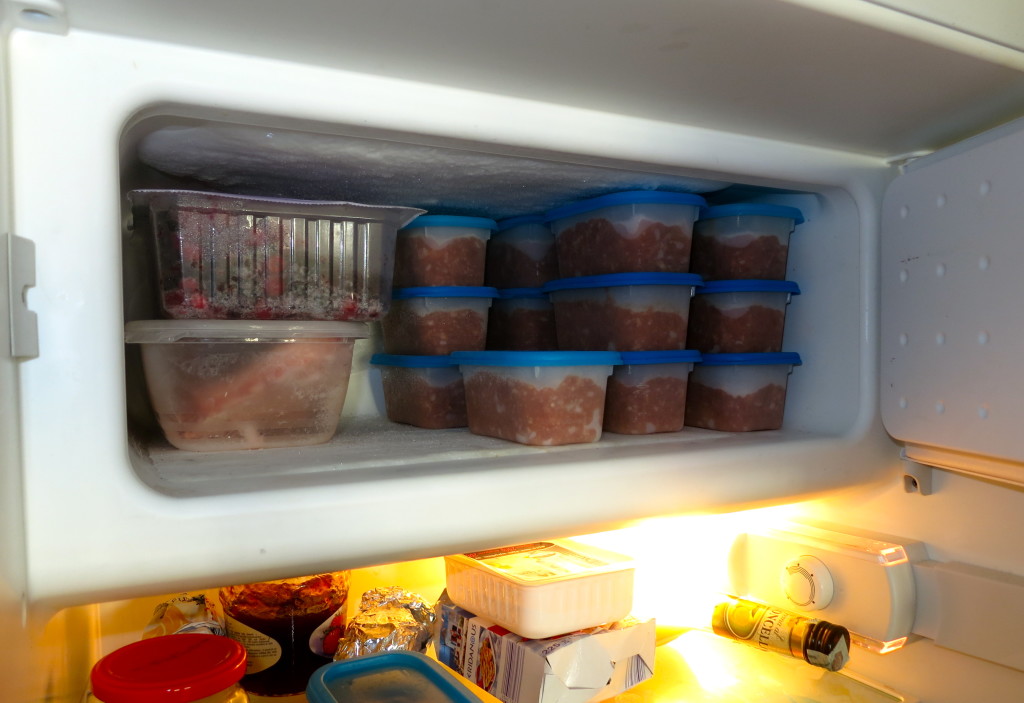 8. Commercial Food. When I run out of raw food I feed him a commercial wet food for 1-3 days to add some variation to his diet. I only buy rabbit and beef in commercial food as he gets enough chicken from my home made food. I think its important to change cats' diet so they are used to eating different consistences, flavors and textures.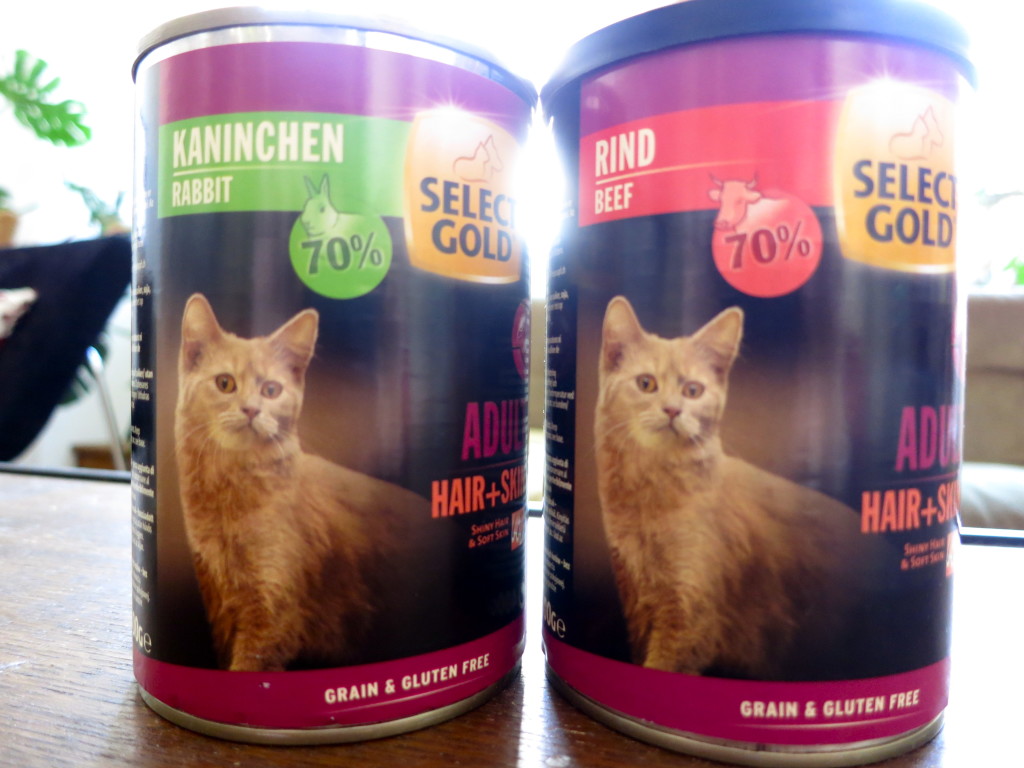 This is what I use. I don't know that its the best of the best. But its high in protein, no vegetables or grains and easily available in Europe. Most importantly my cat does not get sick from it and will eat it happily. Select Gold Website
9. Daily Serving Size.  I remember researching like crazy trying to figure out how much I should feed. Every cat is different and there is no one answer. You will quickly find out how much your cat needs. When my cat was a kitten he was eating 50% more than he does today as an adult. The containers I use hold about 160 grams of food or about 2/3 cup. He eats about this amount daily, a little less now and as a kitten he ate more.
If you are feeding three times a day, you should feed as much as they will eat during that meal. No food should be left on the plate. Whatever my cat doesn't eat within 10 minutes I remove the food.
So that's what I've learned this past year. If you have any questions please don't hesitate to ask in the comments.