The two most important areas of care for cats are food and litter box.
What you feed your cat and how you take care of the litter box has huge impact on the cleanness and feel of your home.
What cats like and humans like in terms of litter box are not always the same. Humans like hidden, low-smell, eco-friendly, inexpensive. Cats like sand or dirt like litter, out in the open and multiple options for litter box.
Luckily most cats will cooperate and use what we give them, if we have a cat like this we should  be so grateful. If our cat is more picky, than its our responsibility to give the more options until they find something they like.
I use wood burning pellet litter in a large DIY sifting litter box and I am so grateful my cats accepted wood pellet litter from the beginning. But recently I shared that Cornelius pooped outside of the litter box a couple of times showing me his discontentment with the current situation. I believe he didn't like sharing the box with the new kitten, he wanted more options and he doesn't like to use a box that has any poop in it. Therefore I realized a new box was overdo.
I searched the internet for a cat litter box that was not an eyesore and I decided on the Poopoopeedo by Sin Design.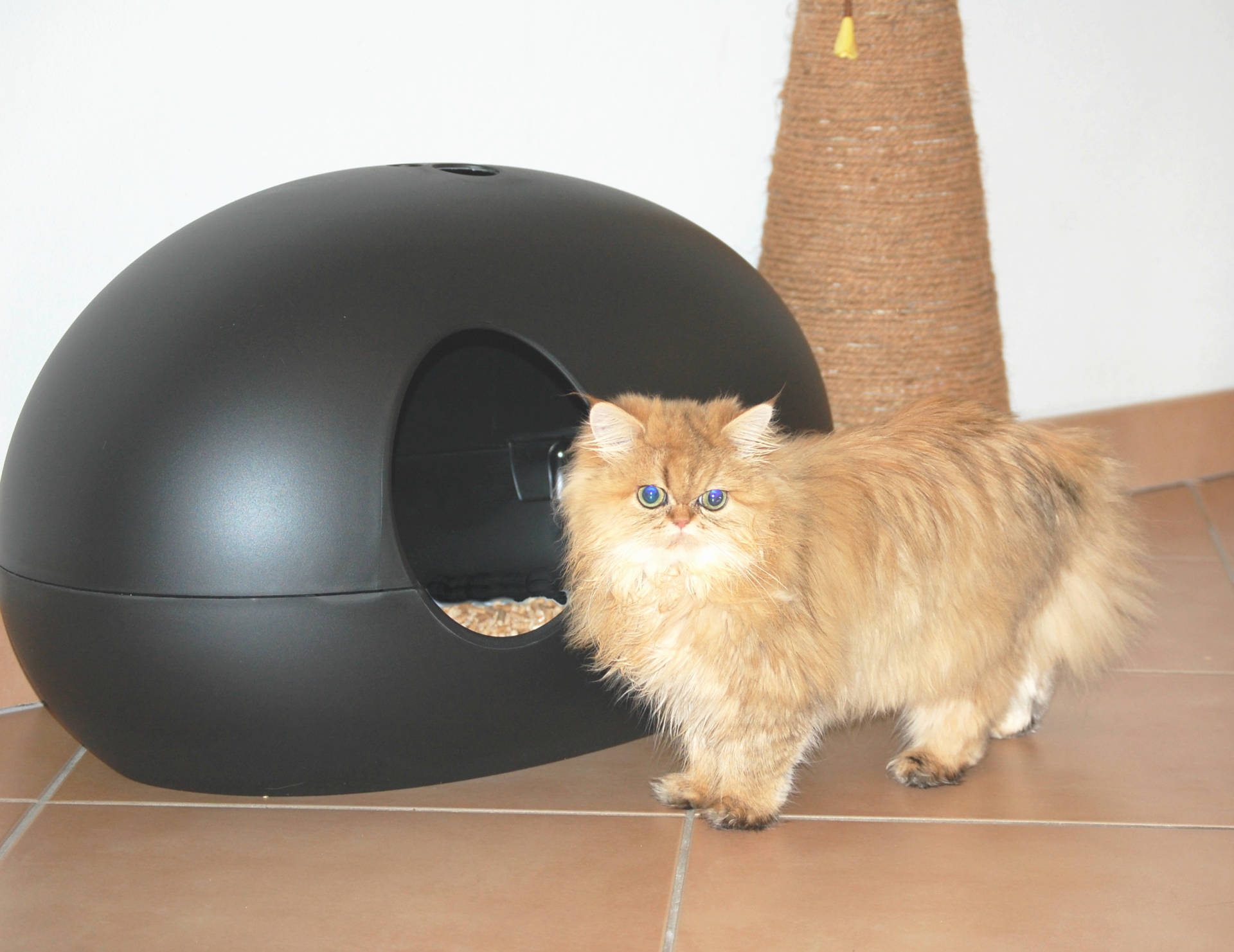 Specifications:
Dimension : 70 x 40 x 40 cm
egg shaped
Weight : 3,7 kg
Ultra resistant made of ABS
the ABS plastic used is 100% recyclable and resists to the acidity of cat's urine.
includes scooper and two anti-smell tablets which both attach to the inside top
3 year warranty
designed and made in France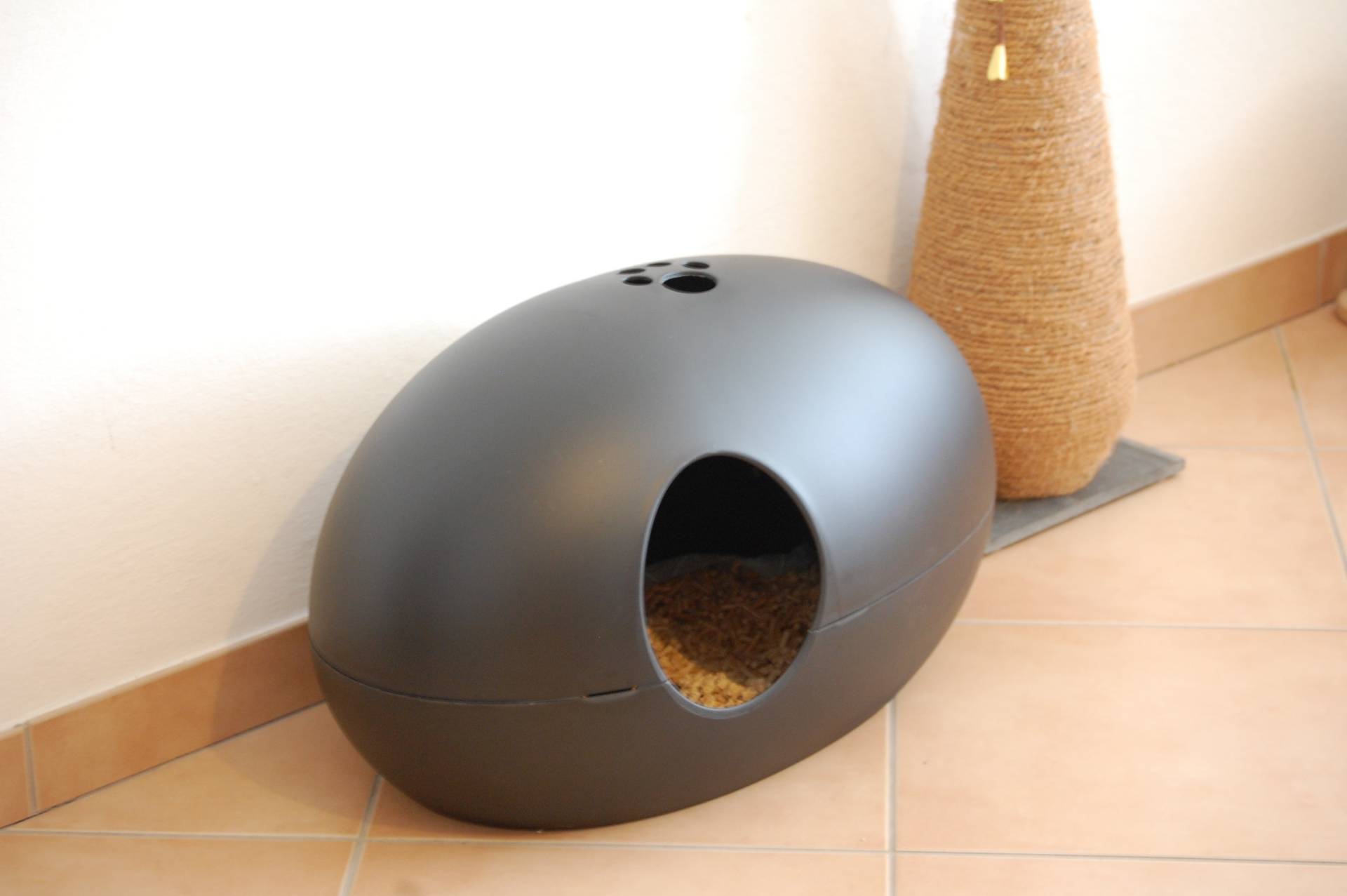 Designed for long-term use, it is extremely sturdy and well made. It is made of 100% recyclable anti-UV materials that resists the acidity of cat's urine. Its smooth coating on the inside does not retain dirt and odors do not permeate. There is a paw print on the top which allows you to easily and quickly remove and replace the top.
Comes in a variety of colors:
My thoughts
I love the design and appearance. Put a cushion inside and it would be a beautiful cat cave bed. It is clearly made of quality materials and should last a long time.  The top easily comes off and is easy to clean.
The scooper that attaches inside isn't very useful as it is small and there is no lip around the edge. It says it is big enough for even large breed cats such as Main Coons, I'm not so sure about that as I think bigger is always better when it comes to litter boxes.  It's big enough for a normal size cat but I think a larger cat would feel cramped.
For the first couple days I left the litter box with the top off and the cats started using it right away. After two days I put the top on and they continued to use it for both number 1 and number 2.  No poop outside the litter box since this box came in about a week ago.
Overall I'm very happy with it and think its a good value for the money. It looks sleek and minimal and works perfectly as a second litter box for us. But as one litter box for two cats, I think it would be much to small.
Poopoopeedo by Sin Design is available on Amazon for $90 and ships worldwide.
*This is not a sponsored post, all opinions are my own.