I first heard of these scissors years ago but I was skeptical. Elizabeth is an easy cat to groom. She is small, more patient and passive. She is easy to hold with very little force. Cornelius is a different story. He is large, strong and vocal. If he does not want to be groomed he will scream and force himself away. He doesn't become aggressive but he is so wiggly that it makes grooming him not only difficult but unsafe. I do most of his brushing when he is sleepy.
For Elizabeth I am able to use a clippers myself and take her to a groomer. Taking Cornelius to a groomer is a nightmare. He developed a couple matts above his back legs and I thought it was time for an annual cut. I was dreading taking him to a groomer so I decided I would finally give the Scaredy Cut a try. I couldn't be any happier!
Details:
High-quality barber scissors
Rounded tips to prevent accidental cuts
Top is a flat blade and bottom is a serrated blade
 7 combs to cut different lengths included (1/2″ to 1″)
Blue and Pink available, (no difference other than the color)
Right handed and left-handed scissors available
Loosen or tighten the tension by turning a screw
Guarantee
What pushed me to make the purchase was the 2-year refund. There is no risk in this purchase. If you're just not happy with the scissors for any reason there is a 2-year refund. Nothing to lose.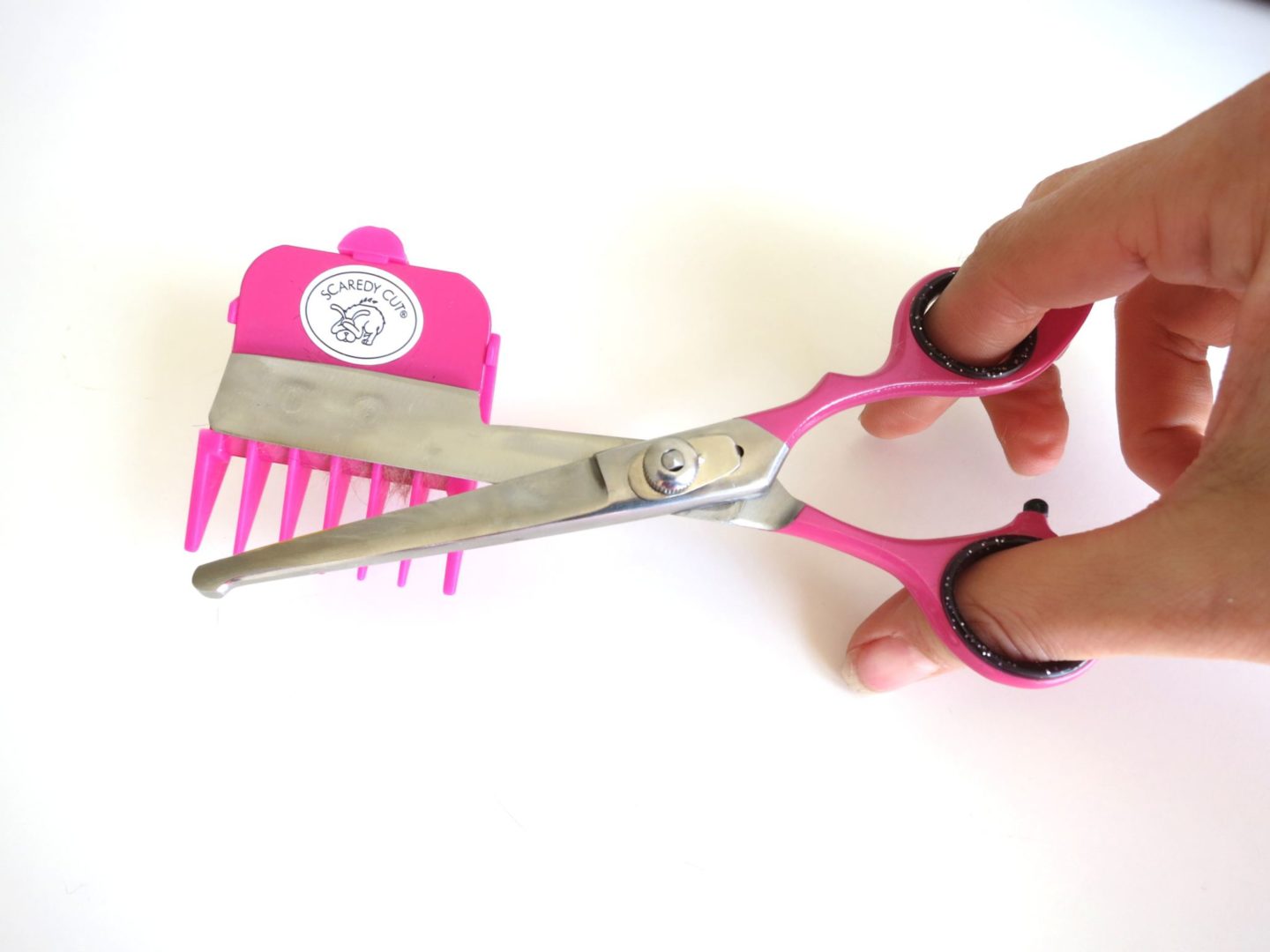 My Impressions:
First, I was impressed with the weight of this scissors. It is not a cheap, flimsy scissors. It feels sturdy and substantial. I read some reviews that said the finger holes are too small and uncomfortable. It does look like it was designed for a female hand. I have very thin fingers and it fits me perfectly. I appreciate the removable black inner piece which makes it softer and creates a more comfortable grip.
Patience is key. I have learned that I need to groom Cornelius when he is ready not when I am. This means after he has played, ate, and used the litter box. When he is tired I pick him up and put him on my lap using the Love Your Laptime grooming mat. This is helpful as it protects your legs and contains the hair. I know where he likes to sleep and I have to catch him there.
My Result: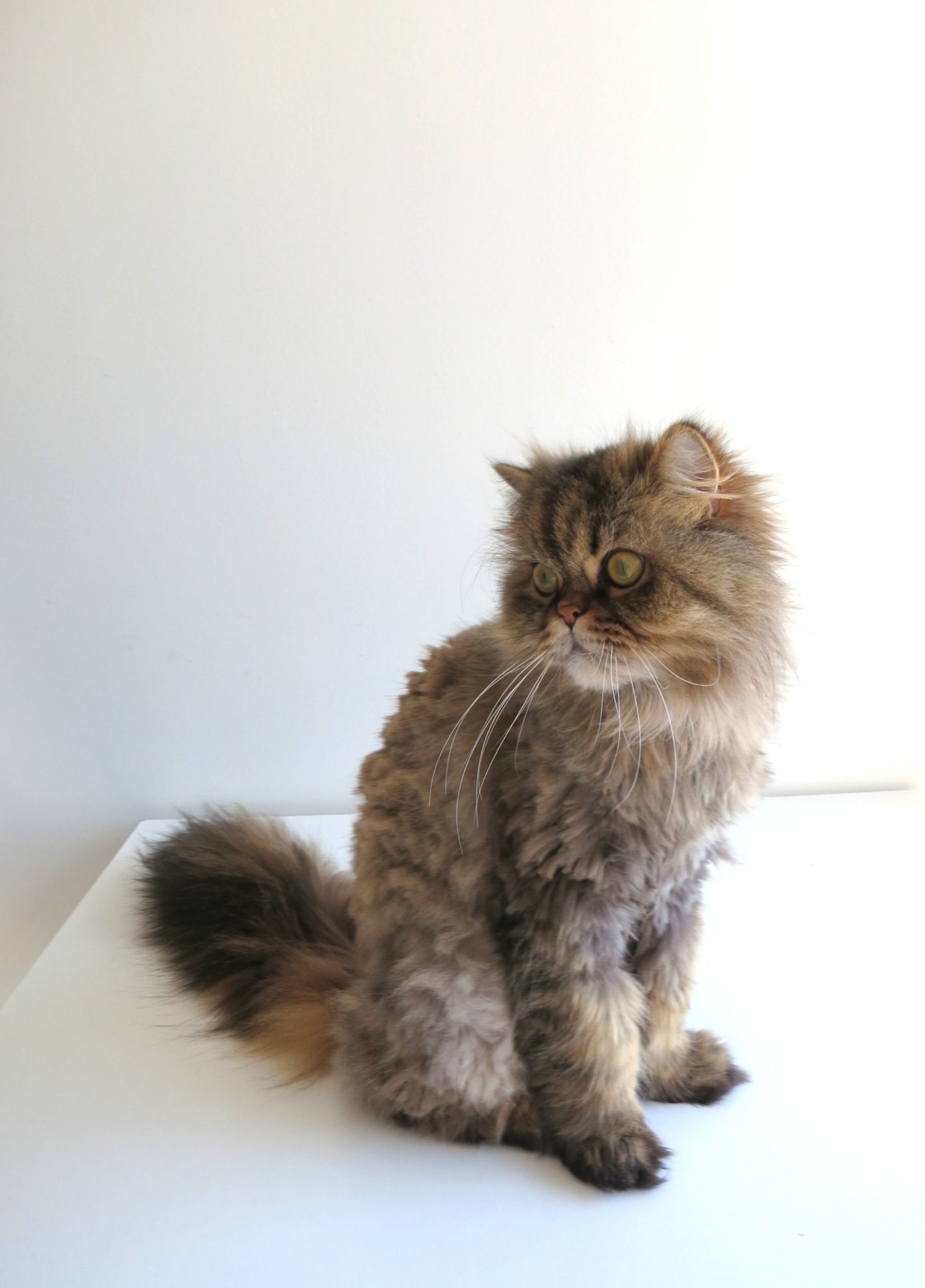 I think he looks pretty adorable. Is it perfect? No. You can definitely see cut marks. Sure its a bit rough around the edges, but he reminds me of a little teddy bear.  It took me about 4 sessions of 5 minutes each over 2 days to get this result. I used the #2 attachment. Cornelius had a couple matts above his back legs. It was difficult and stressful to try to brush them out. I used this scissors to cut away at the matts which brought them down to a short length. Cutting them shorter made it easier to break them apart and brush out.  In the video below they show how to do most of the cutting while holding chunks of hair, this is how I did his entire coat. In a few months when his hair grows back I will try again. Overall I am super impressed with how easy and stress-free grooming can be. Scaredy Cut can be purchased from Amazon for just $35 which is an incredible value.
Pros:
Super inexpensive – a lion cut at a groomer can cost between $50 – $100+ each time. This scissors is just $35
Avoid Stress – going to the groomers can be very stressful for cats
Safe – the safety guards prevents you from getting too close to the skin and cutting your cat & rounded point
Avoid Redirected Aggression – my cats are prone to get angry at each other after a trip to the groomers.
Very easy and fast to use
Giveaway!
I'm excited that one of you will be able to win a Scaredy Cut Scissors. For this giveaway, I would love it to go to someone with a Persian or a long-haired cat, because I know the struggle to find quality grooming materials to keep our cat's hair healthy and matt-free.
To enter, you must share a photo of your cat and tag me on either  Twitter, Instagram or Facebook. I can't wait to see your photos!
a Rafflecopter giveaway

Disclaimer: This is not a sponsored post. I purchased the Scaredy Cut Scissors for myself and Scaredy Cut is supplying the giveaway.