6 weeks ago Cornelius and Elizabeth both got a Lion Cut for the first time.  I want to share our experiences and answer some common questions I frequently get about shaving Persian cats.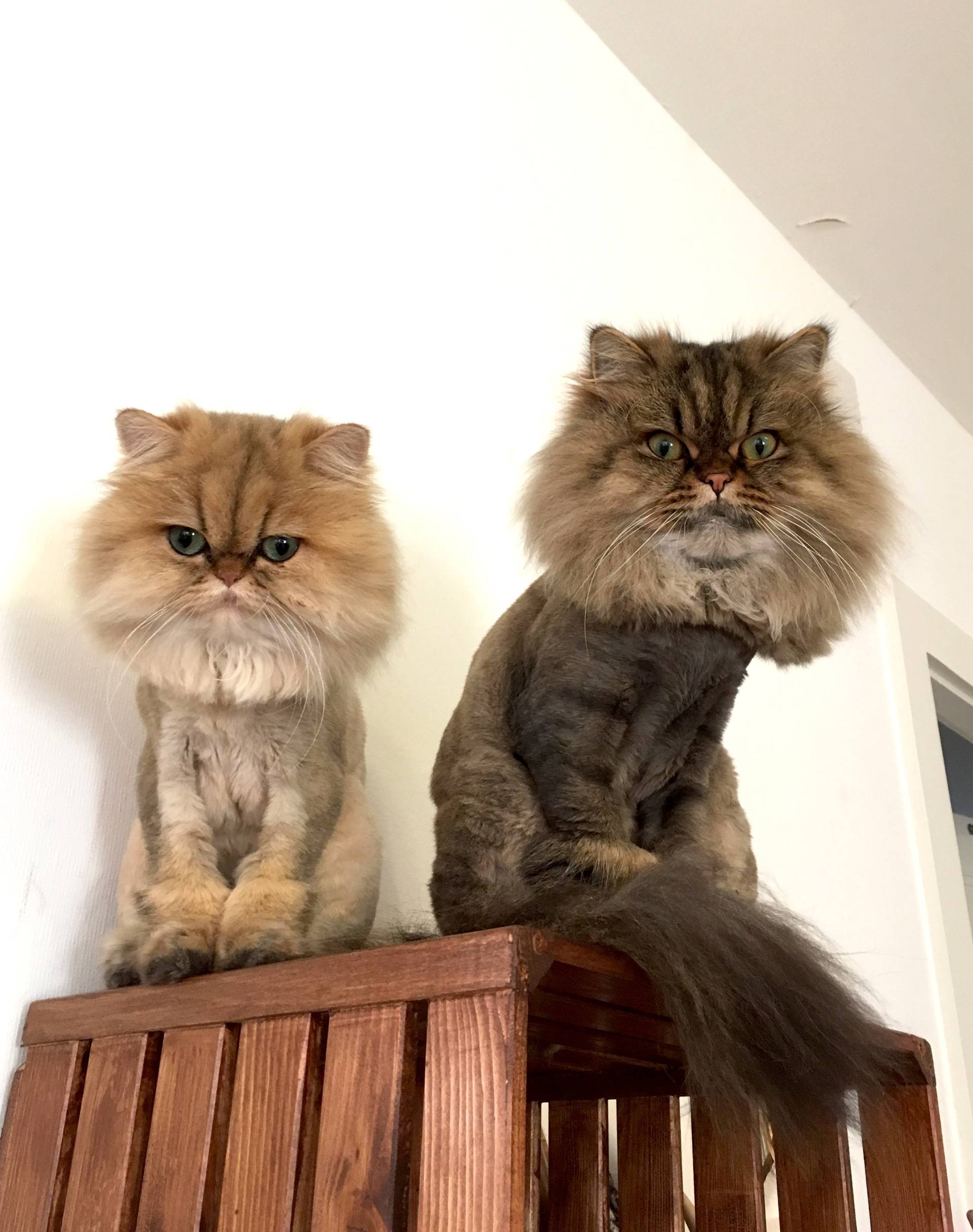 Why shave these beautiful cats?
I've talked about the pros and cons of shaving Persian cats in this previous post. Basically I don't want anyone to get a Persian cat and think you can just shave them every few months and don't have to worry about brushing. Persians should be brushed every day to prevent mats. However the texture of Persian cats' hair varies greatly. Cornelius' hair is more silky and is very easy to brush and he rarely gets mats. I also think he spends more time grooming himself compared to Elizabeth. Elizabeth's hair is more fluffy and feels like soft cotton. This type of hair mats much easier. Her belly especially can get matted easily. So I've decided I would give them a Lion cut about once a year. I still need to groom and brush them but it's helpful to get a clean start and regrow new hair.
Can I do it by myself?
The short answer is no. It is much easier to have two people help to shave a cat and one of them should be experienced in grooming cats. Cat skin is very thin and can be easily cut. There is a lot of technique involved on how to stretch and bend the skin to prevent cutting. Using a high quality razor is also very important. All cats react differently. Some are more passive and some fight for their life to get away. A cat groomer knows the correct and safe ways to control the cat.
I have an Oster clippers which I can use by myself to clip around their sanitary area and belly but I could not and would not attempt a Lion's Cut on my own.
Find an experienced Groomer
I searched for a groomer that was experienced with cats that could come to my home. The groomer came to my home and set themselves up in the bathroom. This was much easier on me and my cats. I asked to see photos of cats they had groomed and in the photos he showed me the tails were shaved and only a small ball was left at the end. Personally I don't like cats' tails being shaved. I believe the tail is an important communication tool and I don't see any reason why it should altered. It is important to talk to your groomer and look at photos of what you do and don't want.
Cats' reaction during the haircut
Cornelius is extremely vocal everyday. This haircut was no exception. He expressed his discontent and meowed through the whole thing. He never tried to bite or attack but he did make many attempts to get away.  Elizabeth was quiet and did not make one noise. She is smaller, more shy and passive than Cornelius. She was much easier to handle during the haircut.
Afterwards
Even though Cornelius protested through the entire haircut. The second he was finished he was fine. He wasn't scared and didn't hide. Instead he stayed close by stood outside the door while Elizabeth was getting groomed. I didn't notice any change in his behavior for any period of time.
Elizabeth had a very different reaction. She can be very shy of strangers and weary of loud noises. Once she was done she immediately ran to hide. I let her hide and have some peace and quiet. When I came to her to pet and hold her she was okay but very quiet and still. When Cornelius came to her she would growl and hiss. I knew she was experiencing Re-directed aggression.
What is re-directed aggression?
This aggressive behavior occurs when cats, unable to respond directly to threats or discomfort, vent their frustrations onto another animal who happens to be nearby. This could be caused by pain, illness, discomfort, threats from other animals or cats outside,

If a cat has experienced re-directed aggression in the past it is likely it will occur again in the future. Elizabeth's first time was when she was spayed. The second time was after I gave Cornelius a bath. This was interesting because Elizabeth wasn't the one who had the bath. But she was so bothered by Cornelius' new smell from the bath that she was fearful and aggressive towards him.
What it looks like?
Basically anytime Cornelius would come near her she would hiss or growl. Cornelius was very curious about her strange behavior and continued to approach her but he would listen to her verbal warnings and walk away.
Since this is the 3rd time we have experienced this I was much more prepared to deal with it. Each time it lasts between 24-48 hours. You can read my previous posts for more details about what I did to help end this aggression.  In less than two days after the haircut she was back to normal and they were cuddling and playing again. I know how stressful and sad re-directed aggression can be to witness. My cats have such a loving close relationship so to see them go through difficult periods is hard. But luckily so far it has been very short-lived and they always recover.
Have you ever experienced different behavior after grooming your cat? I'd love to hear your experiences in the comments.