When I decided I wanted to start making my own raw cat food I was overwhelmed. I didn't know where to start. But it is not as difficult or complicated as it may seem. I am here to share my experiences with you. After one year of using this recipe, I and my cat are trilled with the results.
Below is the raw cat food recipe I use most often about 70% of the time. It is best to vary meat sources to avoid allergies  because a varied diet is always best. Rabbit, lamb, and other game birds are great sources of meat. But this chicken recipe is what I use most often.
I am not an expert nor a veterinarian. While I have done a ton of research I am not claiming to be an expert. Dr Lisa Pierson is my biggest teacher and I refer you to her website for detailed scientific information regarding the recipes and reasoning behind each supplement and ingredient. Below is a very close version of her recipe that I use.
This recipe includes chicken, bone, chicken liver and chicken hearts. Bone, heart and liver are essential and should not be supplemented.They are not optional, they are necessary.This recipe will feed my cat for between 3-4 weeks.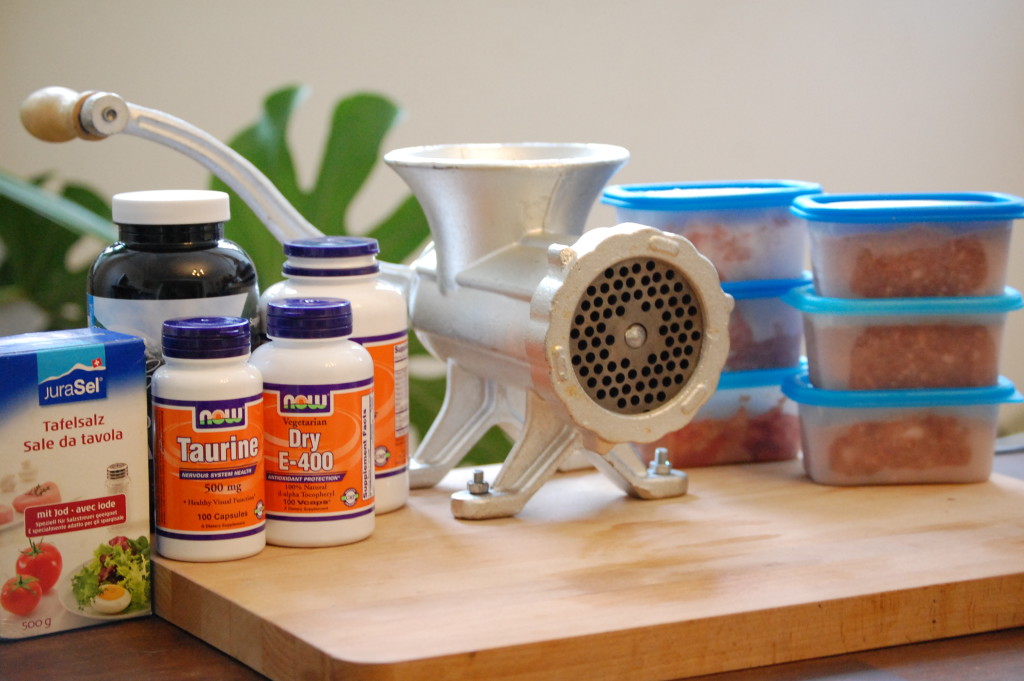 Raw chicken recipe:
3 kg of chicken thighs (drumstick plus thigh w/bone. If your cat is overweight: remove most of the skin. For kittens, underweight or active cats you can leave all the skin.)
900 grams chicken heart
300 grams chicken liver
3 cups water
6 egg yolks
6000 mg salmon oil
1200 IU Vitamin E
300 mg Vitamin B-50
2 1/4 teaspoon Lite Salt (with iodine)
6 capsules raw grandular supplement (for me, this is the only supplement that is optional)
4000mg Taurine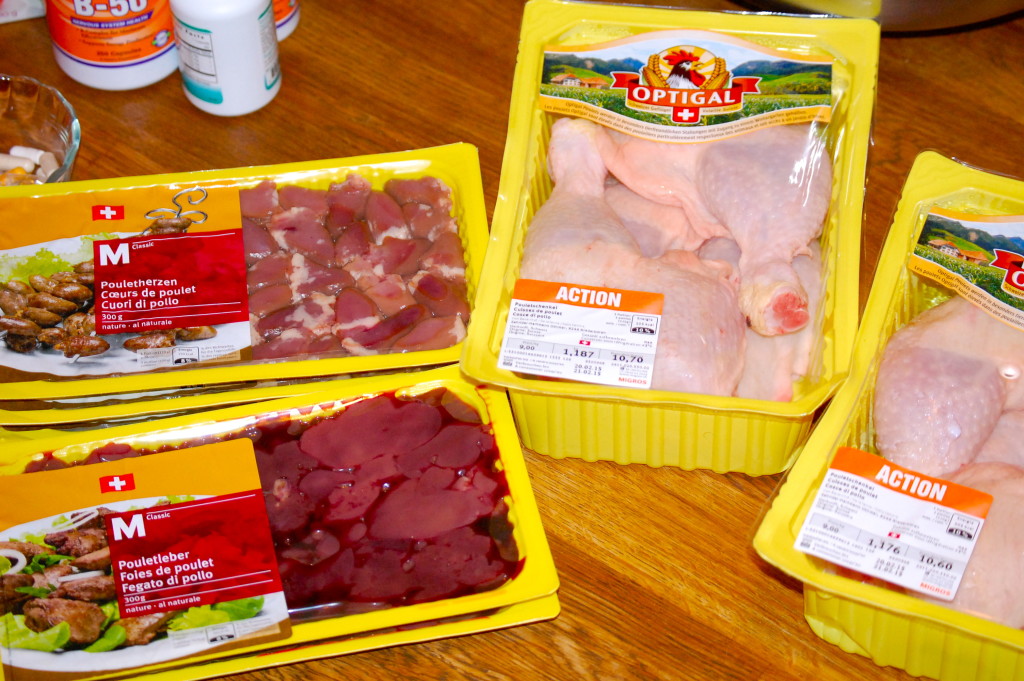 *****Some people say bone, heart, or liver can be supplemented I can only recommend using the real thing. Some supplement bone, heart and liver with Taurine vitamin A and D. Bone, heart and liver should always be included in a cat's diet. The real thing is better and much easier than working out alternatives.
Taurine is the most important amino acid for cats. Without this a cat will not survive. Most of the taurine is coming from the meat and organs in this recipe.
Because I freeze the food after making, about 1-2 times a week I sprinkle a capsule of salmon oil and taurine onto their fresh food to make up for anything that was lost in freezing. When buying supplements it is best to buy capsules rather than a powder or oil because after opening they can go rancid very quickly.
All of the supplements I buy from iherb. They carry every vitamin supplement you could possibly want from quality reputable brands. Some of these vitamins you could find in a drugstore or whole foods. Because I live in Europe, these vitamins are incredibly difficult to find and expensive. iherb.com offers the cheapest international shipping I have ever heard of. So I buy all my cat food making supplies from them as well as some essential oils and beauty products. You can find all of the supplements I purchased here. This exact quantity has lasted me just over one year feeding one cat.. If you use code: PDK049 you can save $10 off your first order of over $40.
iherb shopping cart of supplies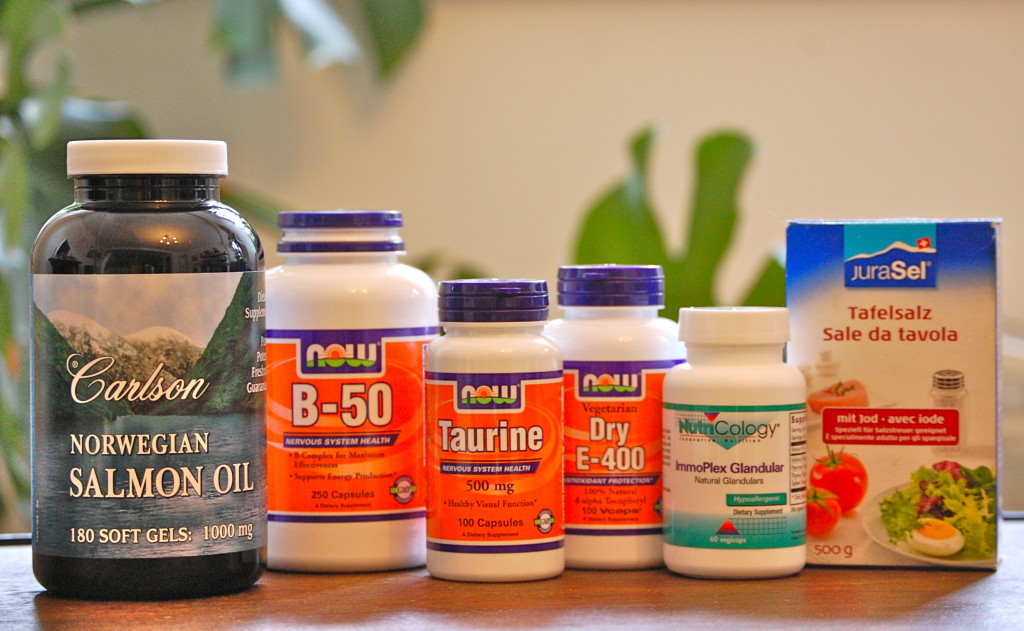 *Salt with iodine you can find at any food store
You can also read:
Step-by-Step process of preparing raw cat food
Thanks for reading and I'm happy to answer any questions!