Are you looking for a rug for your home that can withstand your pets? Read on to see the dos and don'ts to buying a pet-friendly rug that will look great and last.
Points to consider when shopping for a rug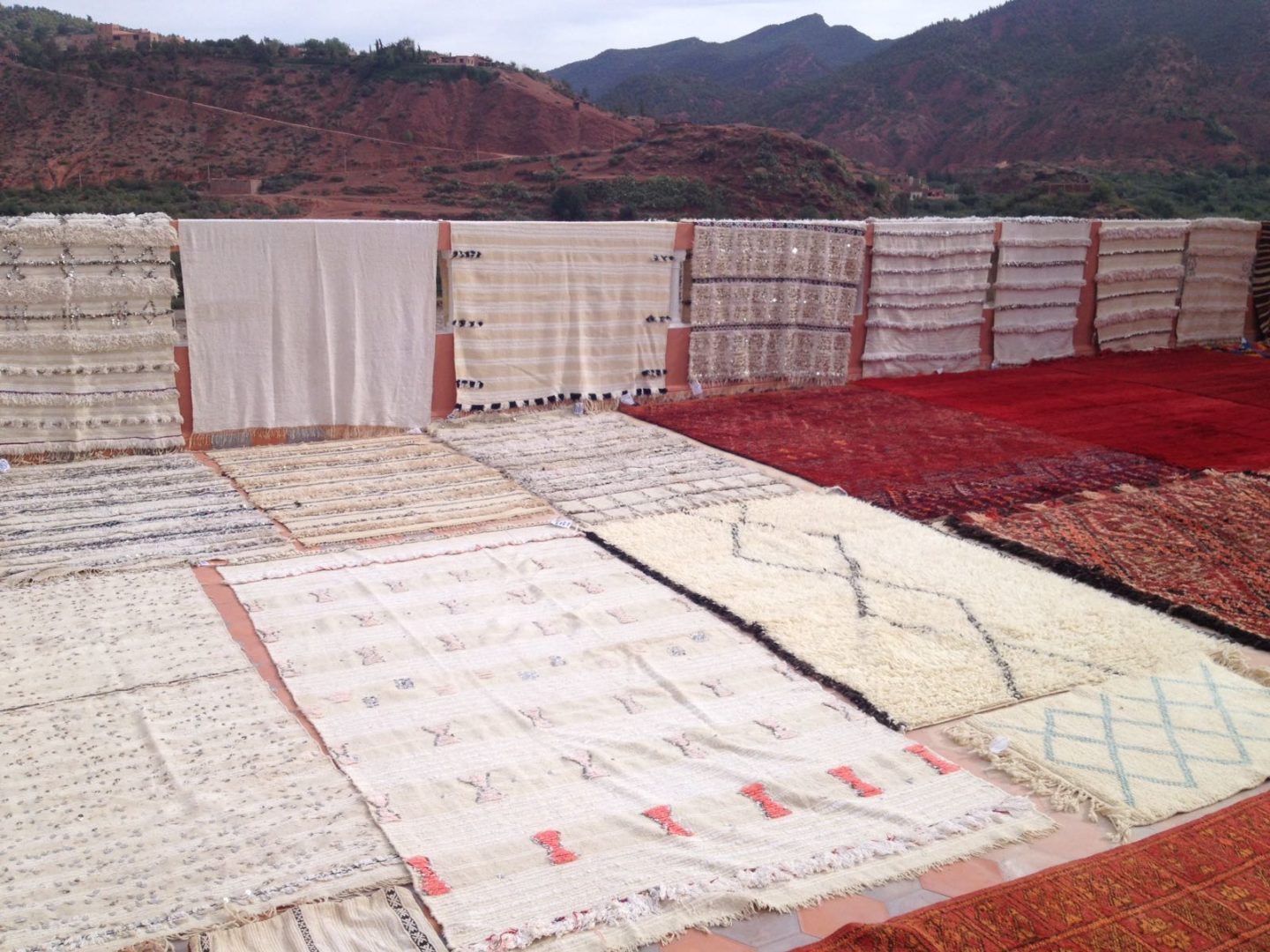 Pattern Scale
The larger the pattern scale the easier it will be to see a stain, snag or pet hair. Smaller scale patterns hide imperfections better than large scale patterns.
Avoid fluffy long pile or shag rugs
These are an absolute no-no. These rugs can encourage your cat to dig and scratch. Worse case scenario is they could interpret the long pile as a place to dig and go to the toilet. These also trap pet hair and dirt and require a ton of maintenance and are difficult to clean. If you buy a cheap shag rug it will likely shed hair of its own so now you have rug and cat hair to clean up. While these rugs may camouflage the cat hair, they can be incredibly dirty and awful for allergies.
Wool
Wool is a pet-friendly material because it is durable and the natural fibers make it easier to clean and anti-bacterial. However, wool rugs are more expensive so if it is ruined beyond repair this can be disappointing.
Outdoor Rugs
Today you can find many great patterns of outdoor rugs that you can use inside. These are very thick, flat durable rugs that can withstand pet play and are easy to clean. The quality of these rugs varies greatly, so you need to look at them on an individual basis and look what they materials they are made of. But it's a good option to consider.
 Color
If you have a white cat, a black rug clearly isn't a good option for you. Patterns and mixed colors are usually better at hiding pet hair than a solid color which contrasts your pet's hair.
Cowhide
Cowhides are incredibly durable and long-lasting.  Easy to clean up spills and accidents and pet hair can be brushed off. They come in a variety of patterns from natural and traditional to bright hues or shimmer and glitter. These rugs surprisingly work well with many different styles.
Kilim Rugs
Buying an original Kilim rug is a wonderful investment. They are usually made of 100% wool, tightly woven and low pile. They are indestructible and become more beautiful with age. When I visited Turkey I saw people selling rugs hanging them outside to get sun and putting them on the street to allow cars to run over them. These rugs are made to be used and loved for many generations.
Kaya Kilims is my favorite rug store. I stalk her website weekly to look at the beautiful rugs and pillows. She curates rugs from Turkey and sells them worldwide with free shipping. Her selection is exquisite and the pricing is a steal for the value.
Overall Best Rugs Options:
Mixed colors, small scale patterns, low pile, tightly woven, flat weave and natural materials.
My Rug: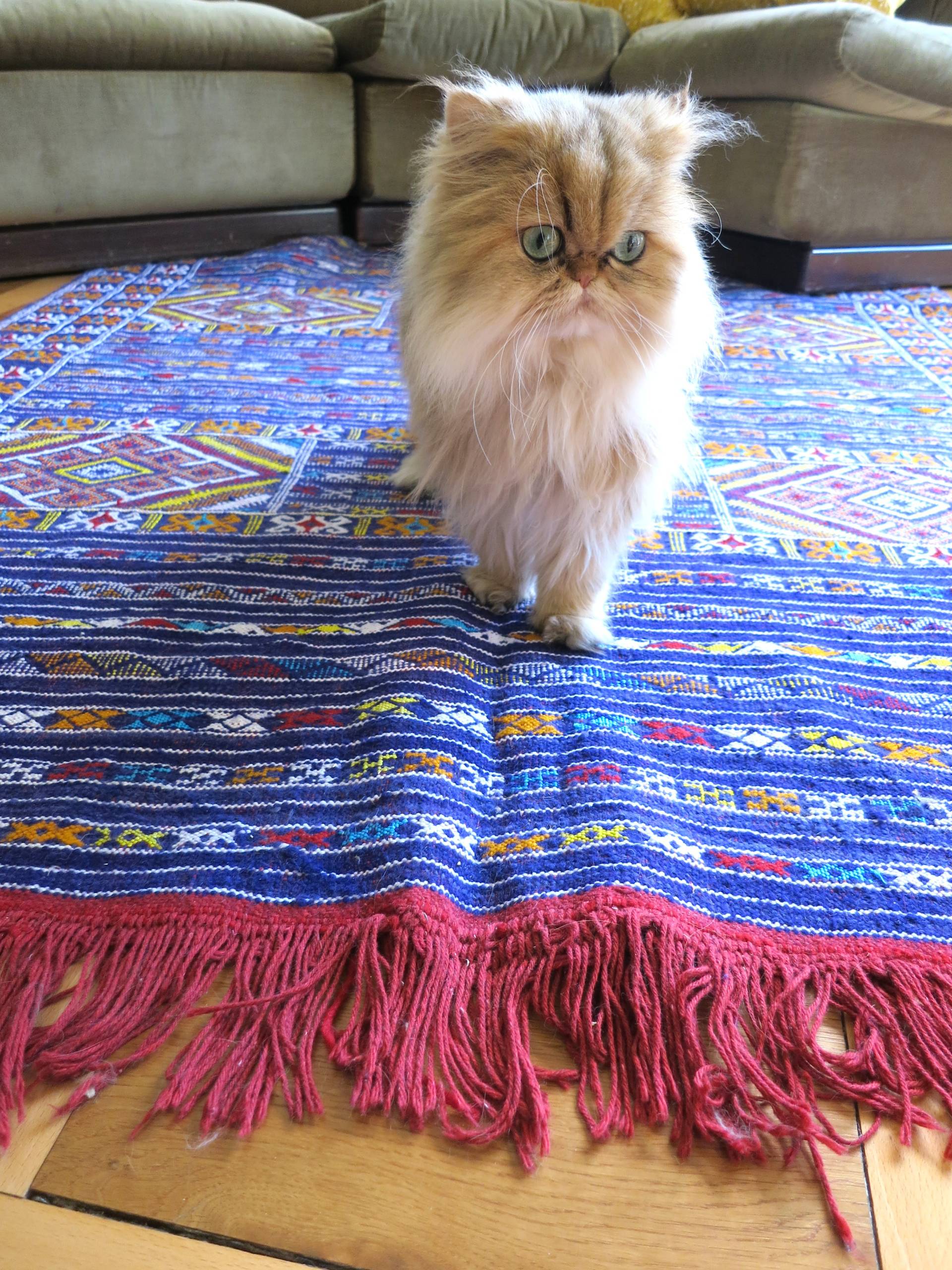 When I visited Morocco I knew I wanted to buy a rug. When looking I told the sellers I had cats and they knew exactly what kind of rugs to point me to. I chose this one because it is low-pile, tightly-woven and thick. It is made from a combination of wool, cotton and nylon. The small scale pattern  hides cat hair and imperfections easily. I have all hardwood floors in my apartment so my cats love sleeping and playing on this. From time to time I do see them try to scratch it. But they haven't caused any snags. I also keep their nails trimmed which helps. I like that it has a busy pattern that hides imperfections well.  It's easy to clean using my Dyson V6 Animal and a Lilly Brush.
Vacuum
Lastly, I have to mention my vacuum. I couldn't imagine living with cats without a Dyson vacuum. It is my biggest weapon against fighting cat hair. I have a canister and a cordless  model and both of them have proved to be incredible machines. Even with all hardwood floors and one carpet, a vacuum is my most important tool to keep my home clean.
Do you have a rug that has outlasted your cats? Share in the comments what has worked for you!